‎"If one dream should fall and break into a thousand pieces, never be afraid to pick one of those pieces up and begin again. " ― Flavia Weedn
8.16.2010
crafted on the dreamforge by

Truly KnotMadly
at 17:29
No comments:
Links

8.07.2010
Just to share in the online witchy community.....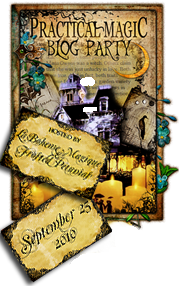 Here's a font of magical experiences, spells, thoughts, dreams...all online bloggers gathering together on the 25th of September. I will be interesting. :)
crafted on the dreamforge by

Truly KnotMadly
at 23:10
No comments:
Links

8.01.2010

My pirate name is:


Black Mary Roberts

Like anyone confronted with the harshness of robbery on the high seas, you can be pessimistic at times. Two things complete your pirate persona: style and swagger. Maybe a little too much swagger sometimes -- but who really cares? Arr!

Get your own pirate name from piratequiz.com.
part of the fidius.org network
crafted on the dreamforge by

Truly KnotMadly
at 23:59
No comments:
Links

crafted on the dreamforge by

Truly KnotMadly
at 21:26
No comments:
Links